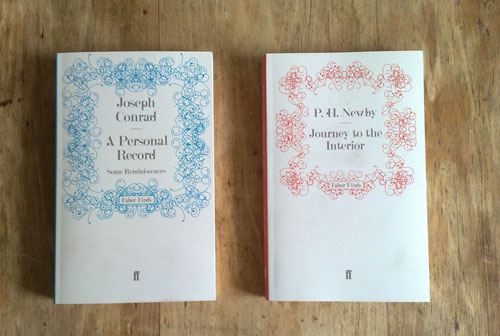 Faber Finds is the new print-on-demand (POD) offering from Faber. It's a classics list made up of old Faber titles, with the intention (I believe) of extending to a wider range of 'forgotten classics'.
Slowly, the larger publishers are coming round to the view that much smaller publishers (such as Salt) have had for a long time: POD offers great benefits for publishers, mostly through doing away with the old and horrifically wasteful system of printing thousands of copies up front without any real idea of whether they'll sell or not. This increasingly outmoded system is the root cause of much of the mid- and backlist malaise currently affecting the industry.
Publishers have traditionally looked down on POD as the domain of vanity publishers and cranks, largely due to the unacceptably poor quality of the final product. This disdain is no longer justified, and POD lists are starting to appear. I'll declare my interest now: I've been working on a POD project for some time, the fruits of which will be available soon.
However, I don't think many of these publishers have really got it – including Faber Finds, and the recently announced PFD list – and I'll explain why.
Publishers have been at pains for some time to stress that what matters in their books, after the quality of the writing, is the production and presentation. The book as a premium object, well-made, lasting, and respectable. This is why they've stayed away from POD, and, to a large extent, ebooks, for so long. Leaving aside the fact that many, many current paperbacks produced by 'traditional' methods don't really stand up to this, it has been the statement.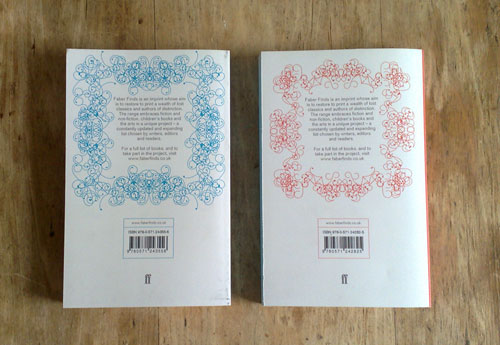 So what are Faber's aims with the Finds list? They claim to have have spent a long time looking at the various POD offerings from printers, and they've gone with Antony Rowe over the US-owned Lightning Source (these two are the only real possibilities at the current time). At a glance, the books look good (they do on the website too), but both my editions arrived in substantially less-than-pristine condition. Both are heavily marked with dirt and even a large thumbprint – more obviously than these photographs show – a recurring problem with white-covered books, and surely one Faber could have anticipated. Far less forgivably, the Newby edition is badly cut, with jagged edges.
Dirt aside, I like the front covers, I really do, but there is little more to appreciate in these editions. They have generic back covers trumpeting not the book but the Faber Finds list. They have no introductions, nor any signs of individual craft or attention. Worst of all, they are both – and I expect the whole list is – photostat editions: straight reprints of previous editions without regard to consistent typography or the book format they are printed in. The result is acres of white space as an old edition is shoehorned into the new. POD printing costs by the page, so it's no wonder they have to sell lots of copies before they make any money.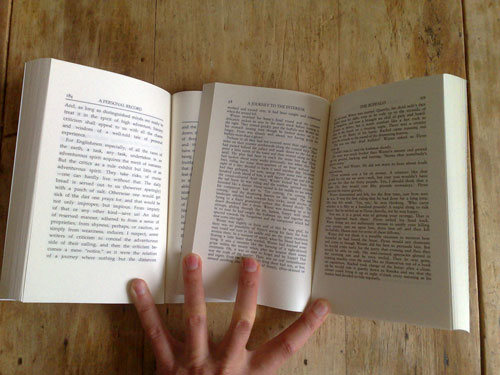 All of this seems to fatally undermine the publishers' insistence on the premium object. Both of these books may technically have been 'out of print', but the Conrad is easily available in a much nicer edition from Amazon, and Abe Books has plenty of old editions of the Newby, all for far less than the £10 – £15 asking price of Faber Finds. So with no added extras, who is expected to buy them?
POD does offer a huge opportunity for publishers, but these current offerings from Faber and PFD appear to have more to do with hanging on to the rights to these works than any genuine desire to see them prosper. The rights to books that are out of print for a particular length of time revert to the author, and while the new technologies have muddied this issue somewhat, the lack of care and attention given to these reprints smacks of opportunism rather than any genuine benefit to readers or the authors' estates.
We're all for publishers using new technologies to create new markets for old as well as new books, and applaud any move in this direction, but these shoddy POD titles, coupled with the recent spate of lazily-designed, ill-conceived and just plain broken websites, suggest that publishers have a long way to go before they understand the workings of the new market.