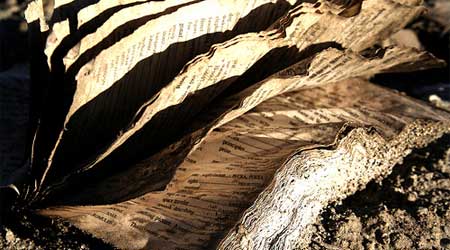 So, I signed up for Blog Action Day, and then promptly forgot about it. It was yesterday. Here's what I'd planned to talk about, with a lot less research than the original idea. Sorry about that:
I'm pretty angry about the environmental state of publishing. We are not, by any extent of the imagination, a green industry.
Let's start with returns. Returns are the process by which booksellers can return unsold stock to the publishers. It's been around for a while, but publishers don't like to talk about the actual figures. Some have admitted that return rates have topped 50%, and the numbers have been rising for some time.
What does that mean? It means that half of all books printed in the UK are never read. And they're not redistributed either, but returned to the publishers or otherwise disposed of, usually pulped or simply placed in landfill.
Writing in the Times Higher Education Supplement last year (behind a paywall, I'm afraid) environmental scientist and author David Reay wrote:
What with production and transport, the average paperback has eaten its way through 4.5kWh of energy by the time it gets to a reader. In terms of climate impact, this is equivalent to about 3kg of carbon dioxide emissions for every glossy new textbook. So, for a print run of 10,000, there is a cost of 30 tonnes of carbon dioxide not mentioned on the dust jackets. But this is a best-case scenario. The sale-or-return system virtually guarantees that the damage is much more severe. If half the books delivered to bookshops then have to be trucked back to the publisher and pulped, there's yet another great belch of greenhouse gases to ultimately heat up the cheeks of both publisher and author…

Assume that the average print run for those 200,000 titles is just 1,000 copies. That's 200 million books coming off the presses in a year – 600,000 tonnes of carbon dioxide emissions and, even if we assume very low return rates, enough pulped book to fill the dining hall at Hogwart's several times over.

In terms of its contribution to global warming, UK publishing in effect puts an extra 100,000 cars on our roads. Our esteemed seats of learning are a sizeable cog in this engine: the average undergraduate buys at least three volumes per course, while most academic offices are crammed from floor to ceiling with dusty tomes…
On top of that, only a tiny fraction of books are printed on recycled paper – or even FSC-certified sustainable pulp. Note the total absence of firm, quantifiable commitments from UK publishers to Greenpeace's Book Campaign, compared to Canada, France, Spain, Italy, Germany…
No one in publishing wants returns. But until publishers can agree on a few things – any thing – they remain in hock to the booksellers, who use the returns system to facilitate their pile 'em high, sell 'em cheap attitude to literature. Returns are bad for the environment, and they're poisonous to literature. They also run down publishers' profits and take out money that could be used for good initiatives, like real, achievable commitments to sustainable/recycled paper stocks.
This being booktwo, I'm forced to point out that ebooks would go a long way to helping with some of these issues (although by no means all). But ebooks are a way off. We can do things now. Print less books, and force the retailers to order responsibly. This means selling through their existing stock, and not returning books from one branch while ordering from another, which I've seen countless times. In the long term, invest in ebooks. Take this seriously. Sort it out.
Image of book in landfill by Wader, under Creative Commons license.