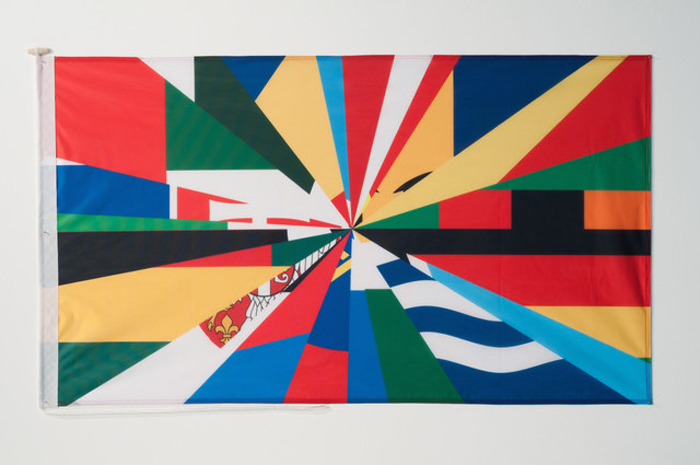 This is a lightly edited version of my end/beginning-of-year newsletter, which you can subscribe to here.
2015
I was hugely fortunate in 2015 to take part in a number of exhibitions and events, as well as undertaking new commissions for a number of organisations. Many of these are documented online…
The year started with The Nor, a series of expeditions and essays for the Hayward Gallery in London, closely followed by the premiere of Seamless Transitions at the Photographer's Gallery. I completed almost a year of working with the Victoria & Albert Museum with the installation of Five Eyes in the magnificent tapestry gallery, and the launch of the Hyper-Stacks website. For the Southbank Centre's Web We Want festival I created and launched Citizen Ex, a browser extension which has since been downloaded and used by over ten thousand people worldwide.
A highlight of the year was The Glomar Response, my first European solo show, at Nome in Berlin, where I presented the Fraunhofer Lines and Waterboarded Documents works for the first time. My drone works were on show at Aksioma in Ljubljana, and I participated in more than twenty group shows, including Big Bang Data (currently on show at Somerset House in London), Profiled (Apexart, New York), Anarchonism (iMAL, Brussels), Fire and Forget (KW, Berlin), the Noordelicht Photofestival, Eyebeam in Objects (Upfor, Portland), Globale (ZKM, Karlsruhe), and Art in the Age of Asymmetric Warfare (Witte De With, Rotterdam).
I also spoke at numerous conferences and events over the course of the year, and many of these talks are online: at Re:Publica in Berlin (on citizenship and surveillance online), at Superscript in Minneapolis (on art and criticism in a digital age), and at the Global Art Forum at Art Dubai (mostly about myself, thank you Omar). A particular highlight was the extraordinary Through Post-Atomic Eyes symposium in Toronto, where I spoke about the history of nuclear protest, and the future of data. You should watch all the talks though.
I also wrote for – among others – Frieze Magazine (on the work of the wonderful Heather Phillipson and photography in video games), The White Review (on Simon Faithfull's 30km and the illusions of space), The Guardian (on the UK's deportation system, and Jem Finer's Longplayer) and ICON magazine (on The Cloud). Not enough writing this year – but hopefully much more soon.
I'm very grateful to all of the curators, programmers, directors, fellow artists and friends who made the work of 2015 so interesting, stimulating, and enjoyable – particularly to Katrina Sluis and Sam Mercer at the Photographer's Gallery, Corinna Gardner and Rory Hyde at the V&A, James Cowdery at the Southbank (and my collaborators on the project, Nat Buckley and After the flood), Luca Barbeni and Manuela Benetton at Nome, Natasha Hoare and Adam Kleinman at WdeW, Roddy Schrock at Eyebeam, Janez Janša at Aksioma, and Claudette Lauzon at OCAD – alongside many others too numerous to mention.
2016
… is already looking interesting. I'm pleased to be participating in Electronic Superhighway (2016-1966) at the Whitechapel in London, Hacking Habitat in Utrecht, After Belonging at the Oslo Architecture Triennale, Watched! at the Hasselblad Foundation in Göteborg, and preparing a solo show at Galleri Image in Aarhus, among other exhibitions. I will also be speaking soon at Transmediale in Berlin, at ZKM in Karlsruhe, and at the Whitechapel in London, as well as other venues throughout the year.
You can keep up with the exhibitions and speaking engagements, should you wish, via my website, and please know that I'm always interested in interesting invitations, collaborations, and commissions.
Athens
As you may know, in September I relocated from London to Athens, Greece, which is a fascinating and engaging place to be right now. I recommend a visit. I'm particularly interested in local projects, so please feel free to share details and contacts if you have them. For a flavour of the Athens scene, check out galleries such as Fokidos, Enterprise Projects, Atopos, The Breeder, State of Concept, Radio Athenes; the work of Depression Era, the Athens Digital Art Festival, the Athens Biennial, the Snehta Residency; and BIOS and Romantso (where I now have a studio).
Since our arrival, my partner Navine G Khan-Dossos, as well as exhibiting at Fokidos, has launched a new project in collaboration with the Benaki Museum: Imagine a Palm Tree…
The project is currently raising funds to support a new installation and event series at the Benaki throughout 2016, drawing on the rich history of Athens as a crossroads between East and West, and the arboriculture which has illuminated it. Please do find out more about the project – and support it, if you are able.
Top Image: One of the "Citizen Ex flags" flown in 2015 at Upfor in Portland, 89+ Filter Bubble at Westbau, Zurich, and coming to Ljubljana and elsewhere in 2016…