Seamless Transitions, 2015. 05:42 looped digital film
(NB: Web version is much reduced quality)
I was commissioned by the Photographer's Gallery in London to produce a work for their Media Wall, a large digital screen in a prominent public space on the ground floor of the gallery. I'd previously worked with Katrina Sluis, Digital Curator at TPG, on The Joy of Gif, the very first Media Wall exhibition, and am a huge admirer of previous commissions by Erica Scourti and Alan Warburton.
Seamless Transitions is a visualisation of three spaces of immigration judgement, detention and deportation in the UK. Field House in the City is the home of the Special Immigration Appeals Commission (SIAC), designed around the presentation of secret evidence, Harmondsworth IRC at Heathrow is just one part of the UK's detention estate, and the Inflite Jet Centre at Stansted is where I watched the deportation flights take place in December 2013 – and where they still carry on.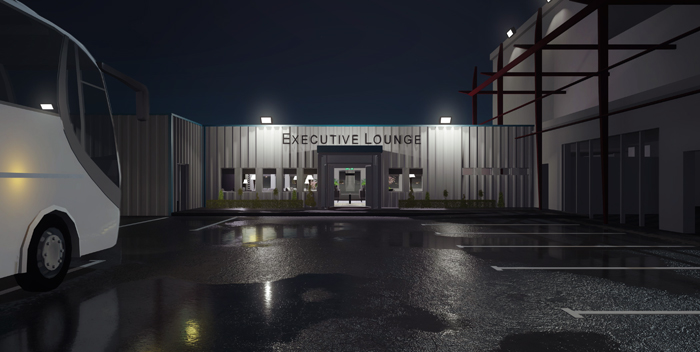 Each of these spaces is "unphotographable" in the traditional sense, so I used investigative journalism techniques, eyewitness accounts and other research to reconstruct each of them. I then took these plans to Picture Plane, a leading architectural visualiser about whose work I have written at length before. The resultant film – a walkthrough of the virtual environments created by Picture Plane based on research and investigation of real spaces – is a simulacram that nevertheless reveals a reality, one which has remained hidden behind law and indifference.
I have written more about the sites depicted for the Guardian newspaper:
Politicians on all sides – when it suits them – have criticised the current asylum system. Human-rights groups and courts have questioned the legality of many of its aspects. Successive reports over a decade have decried the conditions, management and humanity of the flights and detention centres. Newspaper stories every month recount a litany of abuses, deaths, broken families and traumatised individuals. But even if you don't know these stories, just watching people of colour being loaded off buses by burly men in hi-vis jackets at night is enough to tell you something inhumane, morally embarrassing, legally questionable and fundamentally objectionable is going on.
And I wrote about the investigative process and the meaning of visualisation for the Border Criminologies blog of the Centre for Criminology at the University of Oxford:
Seamless Transitions is not about the individual stories of immigrants and borders ― as necessary and important as those stories are. It's about the unaccountability and ungraspability of vast, complex systems: of nation-wide architectures, accumulations of laws and legal processes, infrastructures of intent and prejudice, and structural inequalities of experience and understanding. Through journalistic investigation, academic research, artistic impression, and, I believe, the confluence of these approaches with new technologies, there is an opportunity to see, describe, and communicate the world in ways which have not been possible before.
The centre was extremely helpful in the preparation of the work, particularly the book Inside Immigration Detention by the director Mary Bosworth, and the eyewitness accounts and advice from researcher Sarah Turnbull. I'm also extremely grateful to Jörg Majer, Maria Fulford, and Sam McGill at Picture Plane for their advice and skill in visualising the material, and to Katrina Sluis and Sam Mercer at the Photographer's Gallery for commissioning and advising on the work.
Seamless Transitions is on view at the Photographer's Gallery in Central London until April 15th, and will then tour. I will be in discussion with curator Katrina Sluis in the gallery on March 5th.
I also undertook an interview about the work with ICON magazine, and the piece has been covered by Wired, i-D, The Space and Photoplan.
Here is a short film made by the gallery, which includes clips from the film, as well as interviews with myself and Picture Plane: