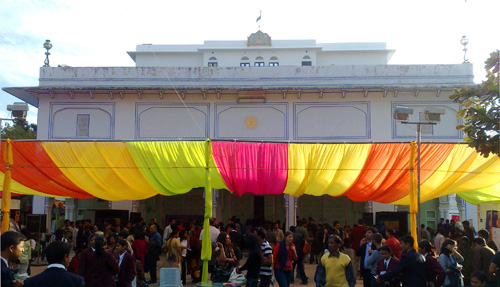 As regular readers know, I'm currently in India as part of the British Council's UK Young Publishing Entrepreneurs scheme. We've spent the last few days at the utterly wonderful Jaipur Literary Festival, and while I've got some time online I thought I'd write up one of the many talks I attended, and its associated lessons. Much more of this kind of thing to come.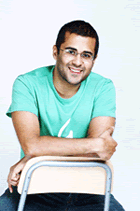 The very first session I attended on Friday morning was with bestselling author Chetan Bhagat (left). His first novel, Five Point Someone and it's successor, One Night at the Call Center are among India's biggest-selling English-language novels of all time, with his recent third book, The 3 Mistakes of My Life in hot pursuit. He's huge here, as witnessed by the scrum of young and old readers that followed him around. Much of what he talked about in his interview with Jai Arjun Singh, of the Jabberwock literary blog, would have been of interest to booktwo readers.
One of the biggest issues in Indian letters – and indeed, in society at large – that's become evident to me even in the first few days, is the divide between English and Hindi (particularly, but other Indian languages too). Bhagat believes deeply in trying to reach the widest number of readers as possible, but the distribution for Hindi books is much inferior to that for English novels. So, he says, authors should try to talk to their audiences in Hindi, do Hindi translations, and look to the movies (both his first novels have been adapted into Hindi films). "Bollywood", he said, "is where India gets its stories."
Jai Arjun Singh spoke of the frequently vitriolic comments he receives on his blog whenever he writes about Bhagat. This is down, he says, to the perceived lack of literary quality in the writing, a charge which Bhagat rejects: "Indian style is the style of the people, the country, and if some don't like it: tough." The audience nodded furiously.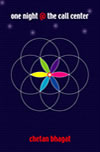 Having picked up and very much enjoyed a copy of One Night at the Call Center, I can see why the accusation is made: to an English ear, it reads in a decidedly YA style. However, it deals in an extremely forthright manner with issues of central importance to India and its youth: the conflict between tradition and modernity, a yearning for Western commodities and Indian dignity, a pride in India's achievements with a recognition of its shortcomings. In particular, it urges young people, in no uncertain terms, to use their educations for the good of their country, to live for themselves and not their parents, and to distrust those in authority. "The number one dream of every Indian male," says the narrator, Shyam, "is to hit his boss." Shortly following this is a desire for success that doesn't involve ass-kissing stupid Americans (the book is not kind to those taking advantage of Indian's educated workers), and winning the girl of one's dreams, and it's not hard to see why it's done so well.
The other revelation of interest was in the pricing of Bhagat's work. English-language novels retail usually around the 300 – 600 Rupee mark (£4.50 – £9.50), but Bhagat's are a far more modest 95 Rs (£1.50) – still much to high, he says, for many of the readers he wants to reach, but a great driver of sales, and a good effort in widening his potential readership.
*
Much more to come when I get a chance. You can also follow some more reactions to the trip over at the Bookkake blog, Times Emit, and the British Council's Creative Economy blog.