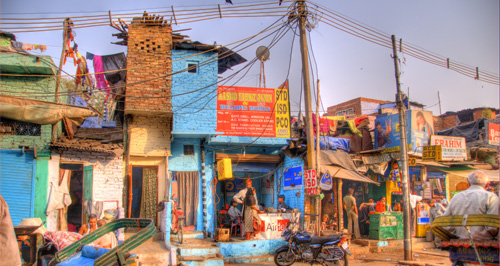 I'm going to India in two weeks. I've been shortlisted for the British Council's UK Young Publishing Entrepreneur of the Year Award 2009, for my work on Bookkake, bkkeepr, LL+, here, and elsewhere, and for which I am extremely pleased and grateful. Part of the judging process is seeing what we get up to in India where we're going for three weeks to book fairs in Delhi, Jaipur and Calcutta, to meet the Indian publishing industry.
I'm very excited. I spent some time as a backpacker in India many years ago, and have wanted to get back there ever since. I'll be seeing a very different, but no less extraordinary, side of the country this time. (I'm also looking forward to hanging out with my fellow nominees, who are a great group of young publishing types.)
I've already arranged a number of meetings, but do any booktwo readers (a) live in India, and would like to meet up, or (b) know someone I should meet, and how to get in touch with them? All suggestions very gratefully recieved. I'm interested in publishers, booksellers, technologists, or anyone else, really. Cheers. (And yes, I'll try to write up as much of the trip as I can.)
Photo of Delhi by wili_hybrid, used under Creative Commons.