I've wanted for some time to create a simple infographic of where a book's cover price goes, and the Observer published a nice one in their Book of Books a few months ago. The figures made sense, so I've created a similar one here, in colour.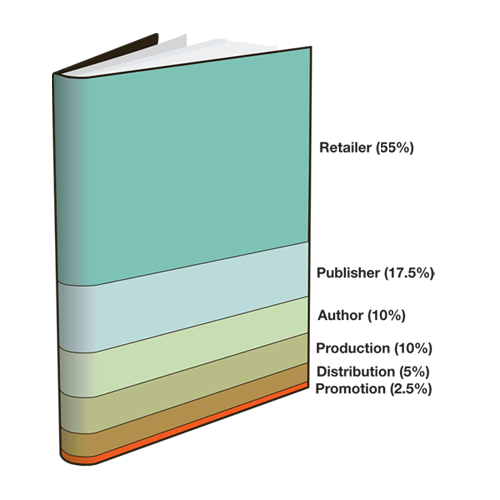 The Observer's figures were based on a notional £20 hardback book, from which I've extracted the percentages, which in my experience hold fairly true across standard formats for traditionally produced books in the major bookshops. So for a £10 paperback, the retailers will take anything between a 40% to a 60% discount (and guess who's trying for more), and the author can expect to see about a quid, depending on their terms.
I think this illustration serves a number of purposes, not least to illustrate the mark-up taken by the retailers. There's some justification for this by bricks-and-mortar stores, with huge overheads, but I'm yet to hear a decent one for internet retailers, who don't have shop rents to pay – their motivation, of course, is simply to undercut the high street. Publishers are giving away huge sums in their failure to compete on direct sales – and they're going to struggle to justify high ebook prices too.