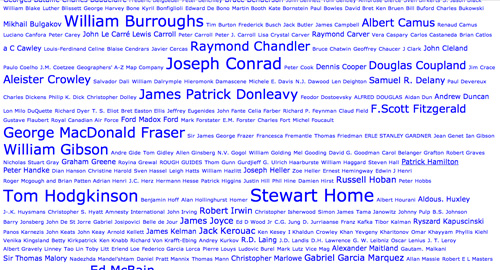 I got my Cuecat a couple of weeks ago and spent a happy couple of hours scanning in this whole bookshelf, which consists of approximately 90% of my library. The above is a detail from the resulting author cloud.
I like the cuecat as a nice little interface tool, necessary now like a CD reader was when you fed all your old CDs into iTunes, then promptly put them all away in a box. In this case of course, we're only ripping the metadata, not the books themselves.
LibraryThing works very well, even if it's pretty raw-boned at the minute. I was also really disappointed to find out that the tag mirror, which displays everyone else's tags on your books, is down and has been for a while, with no update. Sharing tags like this is pretty much the single most interesting feature of truly social sites (e.g. Last.fm tag radio and Flickr's tag clusters).
Now I've got my reading history on there (bar those books lost and borrowed over the years, and those in misc. piles behind doors and under beds), I'm looking forward to using it to map my reading present – but this does involve remembering to add a book when I start reading it and logging when I finish. I look forward to the day when my ebooks have their own RSS feed (or similar) and every hundred pages unlocks an achievement.
If you'd like to be my friend on LibraryThing, it's stml, like pretty much everywhere else…