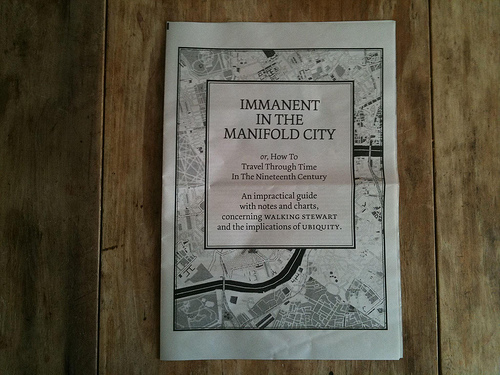 Update: This newspaper is now for sale.
I have been somewhat obsessed with the eccentric figure of Walking Stewart for a number of years, since first encountering him in some dusty library, at the unpopular end of De Quincey's "Collected Works".
A strange, liminal figure, Stewart seems to stalk the margins of the Nineteenth Century, his own, multitudinous, works forgotten, but his footsteps echoing through the recollections of his contemporaries. I've wanted to do something with him for ages.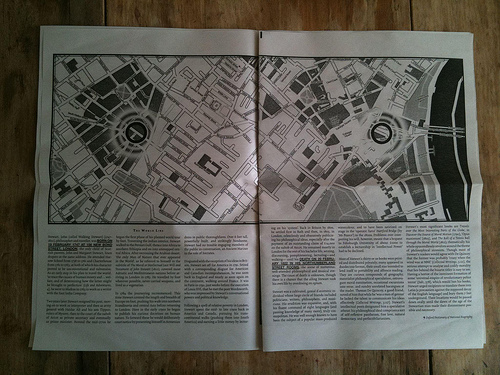 When Newspaper Club offered me another chance to make a newspaper – following the summer's Book Club Boutique paper – I decided to attempt that something.
One of the odd qualities attributed to Stewart was his ubiquity: a perceived ability to be in more than one place at a time. Following a lifetime of walking across the known world, his final years in London were spent in seemingly unending peregrinations across the city, and more than one commentator recorded encountering him in impossible positions: sat steadfast upon Westminster Bridge, and minutes later, as steadfast upon a bench in St James' Park. De Quincey himself records passing him at Somerset House, and then overtaking him again on Tottenham Court Road – despite having taken the shortest route through Covent Garden.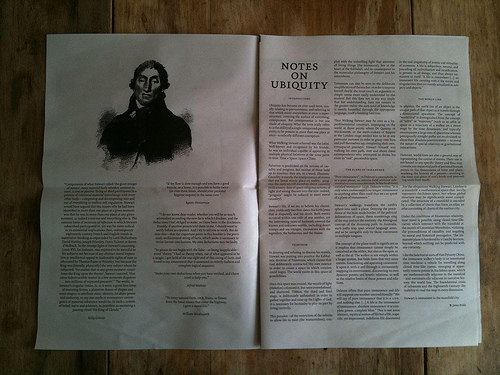 Drawing upon OpenStreetMap, styled with Cloudmade to resemble antique atlases, I collected these routes and anecdotes, and present them here in newspaper form. But the newspaper is a foldable, pliable thing, just as Stewart himself seemed to fold the cityscape around himself. And so we have maps that can fold upon themselves to delineate not only the narrator's journey, but that of Stewart himself. Folded correctly, the maps reveal how Stewart breaks the margins of the map to travel, invisibly, through space and time.
There is also an introductory essay – a meditation on ubiquity, immanence and time travel, drawing on Stewart's life, Jewish mysticism, Deleuzian metaphysics and special relativity – together with selected quotes and sources.
The first edition of the newspaper is produced in a limited run of five copies. Following investigation and use, there may be a second edition at some future point in time – or space…
Update: This newspaper is now for sale.