This is a lightly edited repost from my newsletter. Sign up to stay in touch, infrequently…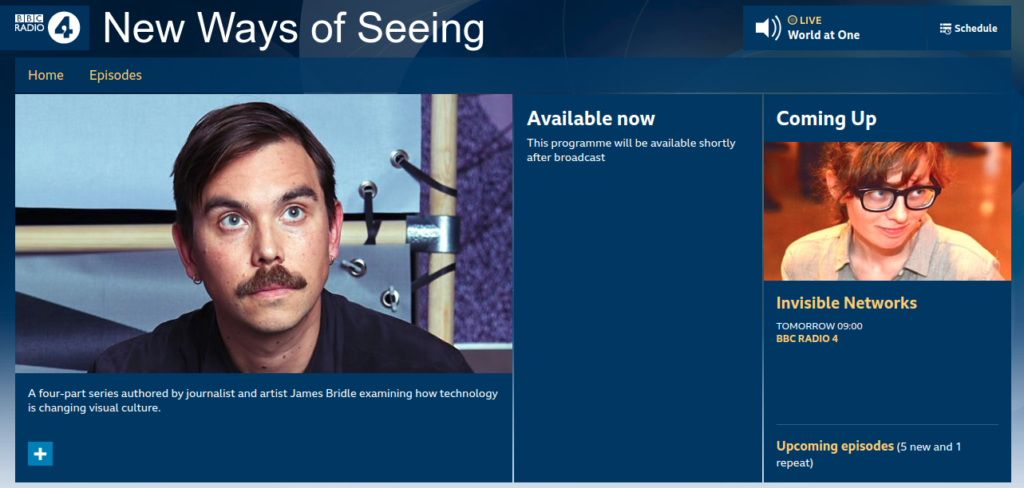 New Ways of Seeing, a series I've written and presented about digital art and our present moment, begins on BBC Radio 4 tomorrow morning. You can listen on the radio in the UK (0900 and again at 2130), or online worldwide, and the series will remain available after broadcast.
Over four episodes, I'll be exploring internet infrastructure, digital images, network power and bias, the environment and education – in conversation with a number of brilliant friends and fellow artists. You can find out more about the subjects, and the artists' works, on my website.
The series is produced by Steve Urquhart and Reduced Listening, who have been great radio mentors and make everything sound amazing. The show has already made pick of the week in the Times, Guardian, and Radio Times, and I hope you get a chance to listen, and enjoy.

I wrote an essay about Artificial Intelligence and animal cognition for the Barbican's Life Rewired series, part of an ongoing series of projects exploring the connections between contemporary technology and urgent ecological consciousness. A new film work, entitled Se ti sabir, premiered at the Tomorrows exhibition at Le Lieu Unique in Nantes, and explores similar territory through the lens of Lingua Franca, the shared language of the Mediterranean. It will appear next in the Vienna Biennale, as part of Uncanny Values, opening at MAK in June. And last week I inaugurated what I hope will be the first of an ongoing series of meetings in Athens between artists and environmental practitioners in Greece and the Mediterranean region, under the auspices of the Onassis Foundation, and my friends at Kassandras (Seamless Transitions is part of the Onassis' excellent new For Ever More Images?exhibition).
I spoke recently with Andrew Keen for his podcast, where we discussed the New Dark Age and the technologies of democracy, from Ancient Athens to the present day. Some of these ideas were also present in an op-ed I wrote for the Guardian earlier this year on Brexit, sortition, and citizens' assemblies. (I also wrote last month about Britain's shameful history of citizenship abuse, in the context of Shamima Begum's case.)
State of Sin, my installation for Arts@CERN, has now travelled to the CCCB in Barcelona, where it will be on show for the next few months, and Citizen Ex and the Flag For No Nations are currently part of Digital Citizen at the Baltic in Gateshead. For all upcoming exhibitions and talks, as well as new writing, please keep an eye on my website.
*
And finally, here's the paperback cover for New Dark Age. If you still haven't read it, this new edition will be out next month – with translations in multiple languages due over the next year.