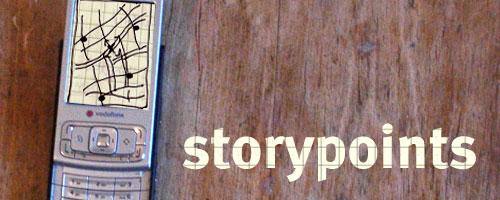 Brief outline of ideas for locative storytelling (more thoughts originating from here and here).
Goal: To produce a locative storytelling experience, where strands of the story are triggered by the reader/listener's location.
Tech requirements: GPS-enabled mobile phone, or Google Maps' new locator function, headphones, application running on Symbian or Windows Mobile (or preferably both…).
Personnel: Writer or team of writers, developer, interface designer, voice actor.
Issues: Low GPS penetration – few handsets currently but set to change rapidly – GMaps not yet accurate enough, at least outside large towns.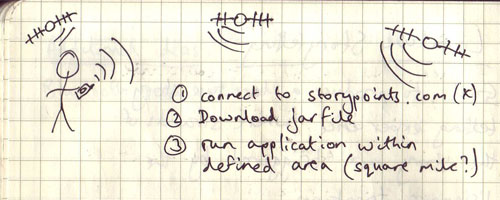 Proposal: Create a downloadable application which runs on a mobile device. Each standalone app contains a story, specially created for the medium and a particular location (although it would be possible to edit stories with strong localities for this, the former offers more possibilities).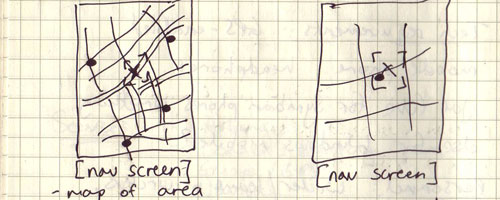 Running the app spawns a navigation map – either a GMaps overlay or a specially created one (perfectly possible for small areas), showing the user's location (X, above, wide and zoomed) and the accessible storypoints – location-specific 'shards' of the story.
As the user moves across the map, they come into contact with the storypoints – close enough, and they trigger the shards associated with that point: scrollable texts, an audio recording, even images or video.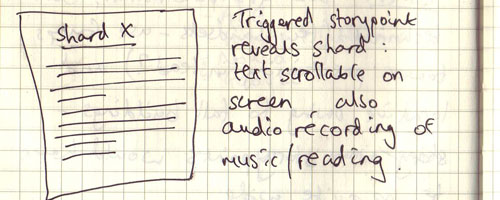 This format offers a number of interesting possibilities for the narrative form, beyond a simple (and still wholly possible) linear structure, such as:
Multiple entry and exit points
Threaded/associative storytelling (storypoints only revealed after certain others have been visited)
… tending to "Choose your own adventure" style
Surprise shards (hidden storypoints)
Story as treasure hunt.
To achieve the full potential, it would require a writer prepared to engage with (at least partially) non-linear storytelling.
So, that's a start. Thoughts? Would be pretty sweet to set one of these up in time for London Lit Plus in the summer…
Further reading: