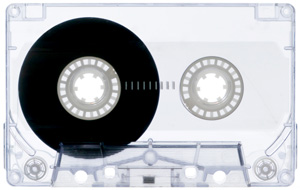 Continuing booktwo's mission to push lit into every available media space, online and off, we're pleased to present a muxtape featuring some of our favourite pieces of poetry and spoken word. I've always been rubbish at arranging mixtapes, so apologies if the order jars a little.
William Burroughs – Thanksgiving Prayer
Stephen Spender – The Truly Great
Thom Gunn – Moly
Richard Hell – "The Rev. Hell Gets Confused"
Rainer Maria Rilke – Too Alone
Louis MacNeice – Prayer Before Birth
Ivor Cutler – Shop Lifters
Don Paterson – The Lover
Hilaire Belloc – Tarantella
T.S. Eliot – The Wasteland Part I – The Burial of the Dead
Brion Gysin – Junk is no good baby
James Joyce – Anna Livia Plurabelle (Finnegans Wake) > London, 1929
All readings are recordings of the authors themselves, with the exception of Rilke, who was, you know, German (I actually love my bilingual edition of Rilke's selected poems, which allows you to savour the tone of the original language, even if you don't quite understand it – but I digress). There is something quite special about hearing an author read their own work. They've been gathered over time from the peerless Poetry Archive, Ubuweb, and other places.
Enjoy – and know this isn't just fobbing you off instead of real content. We're actually working on something quite big.