Three items have recently arrived by post, three publications, collaborations, and projects:
The Library of the Printed Web is a project by Paul Soulellis, "a collection of works by artists who use screen capture, image grab, site scrape and search query to create printed matter from content found on the web". The first issue launched at Printed Matter's LA Art Book Fair in January 2014, while this, the second edition, launched at Printed Matter's NY Art Book Fair at MoMA PS1 in September, featuring work by Constant Dullaart, Daniel Temkin, John Zissovici, Cheryl Sourkes, Brian Droitcour, Tan Lin, Angela Genusa, Webdriver Torso, Rafaël Rozendaal, Olia Lialina, Cory Arcangel – and me.
For the book, I submitted three spreads of Landsat images, based on my Laaaaaaandsat tumblr, a continuously updated record of imagery released into the public domain by the Landsat program, the longest running enterprise for acquisition of satellite imagery of Earth. One thing I love about Landsat, out of many, is its continual partial rotation of the photographic frame, caused by the alignment of every image to north – a north which has no real meaning once you're out in space – which results in a tipsy quavering of the images on the page and screen. It is also, in part, an homage to the archive view, and the endless scroll which so perfectly reproduces the experience of the web itself.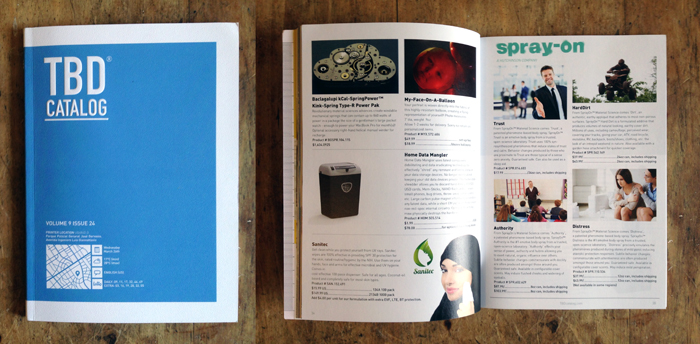 Back in October of 2012, I participated in a three-day workshop in Detroit organised by the Near Future Laboratory, called To Be Designed. The ultimate aim of this gathering was to produce a catalogue of design fictions: provocations from the near future. As Julian Bleecker, who did all of the heavy lifting, described it: "The products in the catalog serve as stand-ins and props that are representative of the everyday drama implicit in their existence". The final result arrived last week, and is very lovely indeed: the TBD Catalog.
You can purchase a copy from the Near Future Laboratory, and read more about the project on their blog.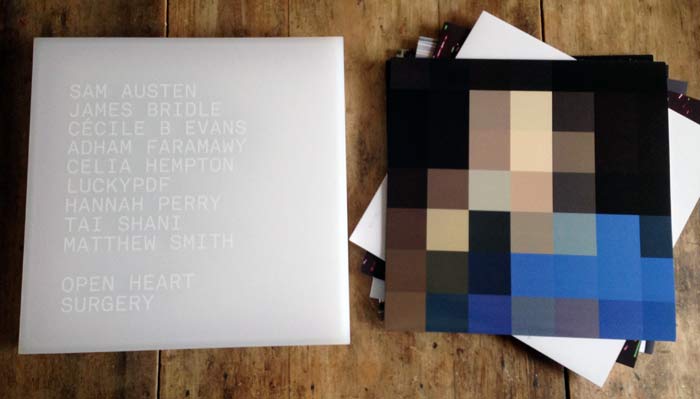 As part of the Moving Museum show in London at the end of last year – for which I made the Occupy the Cloud public banner installation – the Vinyl Factory commissioned sound works and cover images from nine of the participating artists and created a handsome limited edition box set of LPs.
BEGIN PGP PUBLIC KEY BLOCK (Alice and Bob worked for the NSA all along), my contribution to the set, is a recording of my PGP Key – specifically my Public Key, which is what I send to people so that I can share encrypted emails with them. The format is based on that of number stations, those cryptic Cold War shortwave broadcasts commonly attributed to espionage. In particular, it uses the call sign of the Lincolnshire Poacher. Watch and listen below, or on Vimeo.