Tony White, author of one of my favourite books, Foxy-T, and literary editor of The Idler, has just published a series of extracts from Balkanising Bloomsbury, a work in progress, in the Diffusion eBooks format. He writes:
The ebooks are the result of a residency with Proboscis that I've been undertaking in recent months, working with and exploring the potential of their new Diffusion ebook generator.

These stories have been created by cutting up, remixing and renarrativising fragments from a variety of sources to create completely new works. This process mines a particular seam of Balkanist fantasy in English language literature and media; ranging from E.M.Forster to contemporary free-sheet the London Paper. Alongside each story is full bibliographical information relating to the research process. In addition, these resources are also collected in a separate bibliography which will be refreshed and added-to each time a new work is uploaded.
Diffusion is a project to create an online ebook generator which people can use to produce small editions of their work. The term ebook is somewhat misleading as the final product is in fact a paper book, albeit one that can be quickly and reasonably easily assembled from an electronic file: the ebook engine generates a 4-up pdf that is printed and assembled into a chapbook: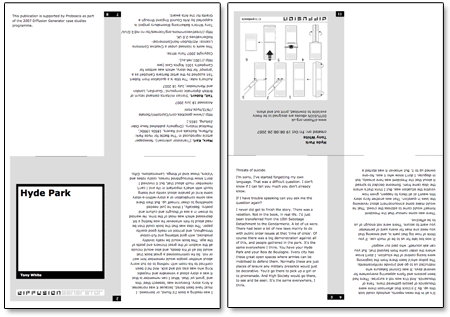 The project is a direct response to the increasing difficulties of getting short and niche works into the bookshops, and the generator will shortly be made publicly available to all. All the titles are free to download.
It's a good idea and a pretty good implementation, although it took me a couple of tries to get to grips with the assembly, largely because my printer chopped off the page numbers (suggestion: put these at the top of the minipages, not the bottom corner), and the instructions are not very clear (there are better ones on the site, but I only found these later). Anyway, it's the new sharing age, so (largely inspired by Common Craft) I made my own instruction/demo:
P.S. Ooh, there's some Stewart Home too!