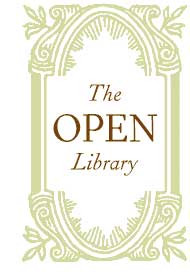 The Internet Archive recently released a demo version of its new Open Library project, about which we are very excited.
We're great fans of the IA, due to the wonderful Bookmobile and the all-encompassing awesomeness of their main site, the largest collection of its kind of publicly-available text, images, audio and video, as well as the world's largest history of the web. So when we heard they were turning their attention to paper books, we were looking forward to seeing what they came up with.
Their mission statement is worth reading in full:
What if there was a library which held every book? Not every book on sale, or every important book, or even every book in English, but simply every book—a key part of our planet's cultural legacy.

First, the library must be on the Internet. No physical space could be as big or as universally accessible as a public web site. The site would be like Wikipedia—a public resource that anyone in any country could access and that others could rework into different formats.

Second, it must be grandly comprehensive. It would take catalog entries from every library and publisher and random Internet user who is willing to donate them. It would link to places where each book could be bought, borrowed, or downloaded. It would collect reviews and references and discussions and every other piece of data about the book it could get its hands on.

But most importantly, such a library must be fully open. Not simply "free to the people," as the grand banner across the Carnegie Library of Pittsburgh proclaims, but a product of the people: letting them create and curate its catalog, contribute to its content, participate in its governance, and have full, free access to its data. In an era where library data and Internet databases are being run by money-seeking companies behind closed doors, it's more important than ever to be open. [Source]
But what's it like, beyond the rhetoric? Well, it's a collection of listings for every edition of every book that's ever made it into library classification (or at least, that's what it will be), as well as scans of those editions which have already made it into the Archive's copyright-free library.
If:Book has some quibbles about the presentation, but I'm far more interested in what this means at the level of data and metadata.
For starters, Library data is not free. The OCLC, the world's largest supplier of library data (and recent receiver of much Charkin-praise), is a non-profit which charges for it's data feeds. The Open Library plans to build futurelib, an open, universal book catalogue, which will contain all books, not just those which arrived recently enough for the increasingly outmoded ISBN classification, or which belong to organisations hooked in to the OCLC's network.
Secondly, an Open Library can consolidate and clarify all these data structures, not enslaved to the horribly outdated Dewey Decimal system, the increasingly subjective and unwieldy Library of Congress Classification system, the publishers' proprietary and unworkable BIC and ONIX systems, or even the tag-based user-generated systems of the new wave, but providing a translation point between them all, as well as serving as a rallying call to create new and better schemas.
They plan to consolidate all the information surrounding the book too – imagine a place to go and search out books that contains not only the book itself, its various classifications and summaries, but also reviews at every level, from Amazon one-stars up to scholarly monographs, references and antecedents, cover art through time, location and author data… the possibilities are almost limitless.
So too are the commercial applications, with print-on-demand of scanned titles planned, with the trade-off of open sourcing the software driving the library. It will be interesting to look back in fifty or a hundred years to see how static this project (or a similar one) has become. If ebooks take over, will a project like the OL become a true archive, indexing only the past? Even if this is the outcome, it only strengthens the case for such a project. We look forward to following its progress.