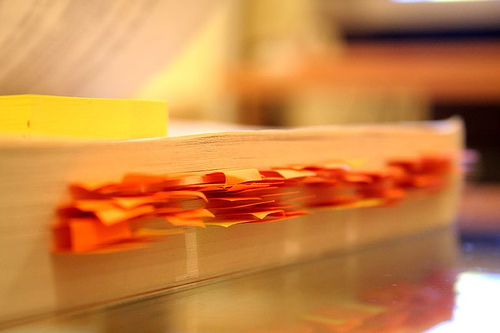 Shared bookmarks are one of the primary drivers of conversation and socialisation on the web. Simple pointers to information are the basic currency of networked communication, and one of the most desirable functions of the future book. But, in the book, they're pretty hard to achieve.
I've hit this problem already on bkkeepr, and that's just with physical books. If two people are reading the same book in two different editions (hardback or paperback, modern or ancient, even in different translations) then the same text doesn't occur on the same page. (This is one of the main reasons bkkeepr bases itself on ISBNs rather than titles or "works", but it's unwieldy and has been, mostly rightly, criticised.)
The problem gets harder with ebooks. My Sony Reader lets me bookmark pages, but there's no way to transfer or even translate these to another epub reader, let alone another format or edition. I've been lurking on the epub-interop group for a while, which has been considering this issue, as well as things like reliable identifiers for epub books, and just keeping your place in different editions (a subset of the bookmark problem).
So, to first principles: a bookmark is a location, right? But it's a location in an existing text, and the problem comes down to defining a location in a text that moves about, covers different numbers of pages, appears in different formats. But here's the rub: it's always the text. (Well, not exactly, but we'll come to that later.)
I do something quite similar a lot, when I've read a newspaper or journal article offline, and want to find the online version. I just pick a string of words from the text, that feels like it contains a reasonably-unique (don't pick me up on that, you know what I mean) set of words or phrasing, and google it in quotes. Works a charm.
Going further, it seems likely you can bookmark anything given a string of sufficient length to be unique (I'm getting something in the back of my head about whole files, and the best model of something being itself, but we'll ignore that).
This is where an idea I've been toying with for a while comes in: do we need a Gracenote / MusicBrainz for books? A big database containing everything – or at least some kind of hash of everything, a set of unique signatures for each book? Could you be able to take a string-of-a-certain length from anything, submit it to this DB, and get back a title, like holding your phone to the music with Shazam?
… although I'm realising that Google Book Search is pretty much working on that – and it has an API, so. I might put a wrapper on that. (The geek version of a donk.) Unless someone has already… ? (For more on Google Book Search and unique strings, see Dance of the Concords.)
So if you have a string of sufficient length, you'd get a single result, and be able to find the bookmark in a text, even if you didn't know what the text was before. That's quite interesting, and new. I think.
There are serious issues with this approach of course, not least that books are edited and do change more than just their page numbering over the course of time, but some kind of clever, fuzzy search or simple string-lengthening might deal with this. And then there are translations: could you bookmark cross-language in this fashion, given a sufficiently clever translation engine?
Thoughts?
Photo of bookmarks by FlickrJunkie, used under Creative Commons.