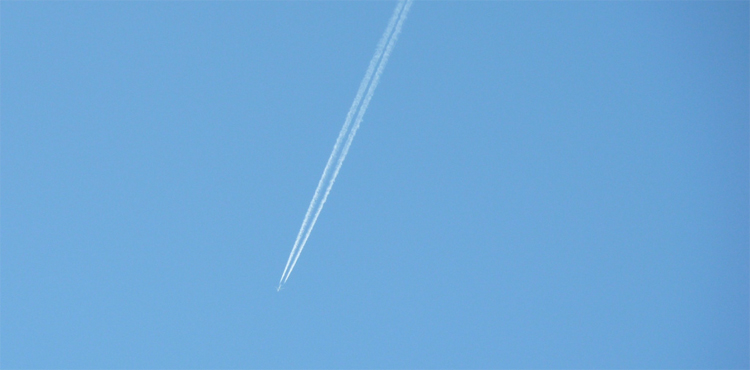 So it's started again: the planes rumble overhead. The first I've heard is right above me now—for a few moments it drowns out the birdsong and childrens' voices rising from the gardens below my window.
I grew up beneath the flight path of Heathrow. From my bedroom window I could read the flight numbers of the planes. There was a railway line too, the main line from Waterloo, and rail strikes or maintenance on the line frequently resulted in garden parties. No such respite from the air—until this week.
For most of us, the eruption of Eyjafjallajokull has been characterised by an absence: of planes, of clouds, of noise, of travel and of people; the opposite of a violent eruption. An absence too of what the newspapers called "chaos". Nothing happening is not chaos. For those unfortunates stranded abroad, I preferred one wag's suggestion: if you're in Italy, you're now Italian. If in Britain, welcome to being British. A grand amnesty, a swap, we all start over.
It took a few days for this feeling, strange and holiday-like, to filter through. At first, it was simply absurd: a volcano? Here? Above us? I received an email from Amazon warning me that my Marketplace order may be delayed by volcanic activity in Iceland. The banal and the extraordinary. And, like the sudden stopping of an alarm, it took us a while to notice the silence.
We didn't realise that the contrails affected us so much. Iain Sinclair has written of them as the sky-writing of our age: great Xs, Ys and Zs scrawled in the firmament. We rarely notice them. They've been there so long, even, probably, in our childhoods, although we may have forgotten them.
It helped of course that we knew what was happening. If we were a Cargo Cult—or rather, a less knowledgeable cargo cult than the one we in fact are—the abeyance of the metal birds would have been terrifying.
The eruption of Mount Tambora in 1815 was the final, cataclysmic event that triggered the Year Without A Summer—the long, hard, seasonless year of 1816, a year of famine, riots, coloured snow and strange atmospheric activity. Byron, in Geneva at the time and not knowing, with the rest of Europe, the cause of the apocalyptic phenomena, wrote in Darkness that "The bright sun was extinguish'd, and the stars / Did wander darkling in the eternal space, / Rayless, and pathless, and the icy earth / Swung blind and blackening in the moonless air."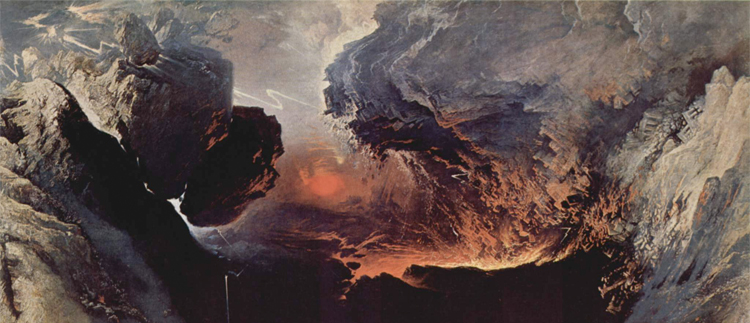 Carol Anne Duffy, the Poet Laureate, has already responded to the volcano with her offering, Silver Lining, among the first to capture its essential stillness: "Britain's birds sing in this spring / From Inverness to Liverpool, from Crieff to Cardiff, / Oxford, Londontown, Land's End to John O' Groats. / The music's silent summons, / That Shakespeare heard and Edward Thomas and, briefly, us."
I am sorry that I only thought last night to go to Heathrow, to see the empty check-in desks and halls, and to try to stand on the runway itself. Alain de Botton, recently writer in residence at Heathrow, described this experience as "a sublime thrill, like touching a disconnected high-voltage cable, running one's fingers along the teeth of an shark or washing in a dictator's bathroom." The thought of missing this experience is painful; the moment has passed.
Some of the lasting effects of the cessation might be visible in the environment. After 9/11, disputed scientific papers claimed to show measurable differences in atmospheric temperatures caused by the 3-day grounding of all North American air traffic. Some climate scientists are hoping we can use this new evidence to put to bed the sceptic's canard that volcanoes emit more CO2 than humans.
No doubt Eyjafjallajokull will have its own wrangling in the journals; but the long-term effects are more likely to be psychic than physical. It's not really about the planes: it's about the collective experience of an event. Following the now widely known Jakarta Incident of 1982, the crew and passengers of British Airways Flight 9 formed the 'Galunggung Gliding Club' as a means to keep in contact. In our case, it's rare that events felt so widely engender such personal emotions, without involving trauma.
The closest analogous experience for me is a blackout, a citywide power cut, which brings everyone out onto the streets. I've been obsessed with the idea for years—and in August 2003 it happened in the Northeastern United States. One of the results of that event was Blackout, a collection of stories by members of Sonic Youth and others, a compendium of poems, recollections and stories tied to the event.
And we're seeing interventions like this again. Robin Sloan's Ash Cloud Tales records brief microfictions inspired by the volcano: delayed passenger romances, supervillain lairs and transatlantic ocean liners. (A special mention, too, to David Malki's Science-Doktor Vondurdauðahöfuðkúpa and Bookride's resurrection of The Purple Cloud, an eco-thriller from 1901.) Andrew Losowsky is attempting to pull together a magazine made by stranded writers, photographers, illustrators: "If there's one thing my ol' ma taught me, it's that when life gives you volcanoes, make magazines. And so we shall."
I could, charmlessly and redundantly, expand on that to say: when life surprises us, making the everyday strange and wonderful, our first impulse is to make stories. These are of course personal stories: the volcano itself is too remote, too vast, to fit into our little narratives. Like Vonnegut's glaciers, they just exist: human lives happen around them.
I could expand on that further to talk about how we should harness that impulse, and spend more time looking for the stories that embody this intersection of the collective and the individual, the world made different and surprising. But I want to go and sit on my roof, and look at the blue, blue sky, and pretend in the gaps between the planes that I am stranded somewhere far, far away.