A couple of months ago, I drew this on the back of an envelope: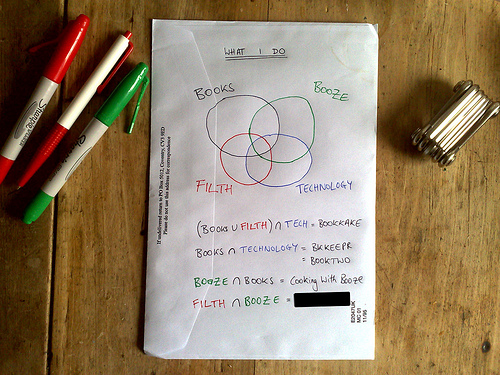 That's pretty much the best representation I could come up with of what I do. I encompasses all my major projects of the last few years: this site; Bookkake, my print-on-demand, experimental small publisher; bkkeepr, the web app for tracking your reading and bookmarking on the go; London Lit Plus, the open-source literature festival which ran in 2007 and 2008; Cooking With Booze; many smaller projects, and of course my work with Snowbooks and Apt.
I've just left my full-time position at Apt, although I will continue to work with Peter Collingridge and many of our collaborators on a range of projects, not least the much-loved Bookseer and the forthcoming and hugely exciting Enhanced Editions, which we hope, Apple willing, will invigorate and expand the provision of quality ebooks on the iPhone and other platforms (there's more in this weekend's Observer).
The last couple of years at Apt have been a very enjoyable and fruitful time, working on a number of hugely rewarding projects from across the publishing world. These have included the launch of Granta.com and websites for Portobello Books and Pictures; the multi-award winning This Is Where We Live film for HarperCollins; Doris Lessing's Golden Notebook online reading group; Coversourcing, the open design competition for Jeff Howe's Crowdsourcing; and much more besides.
It's been an absolute privilege to work with Peter, our clients, and our collaborators; I'm incredibly grateful to all of them and it won't be the last you see from us, but it's time to move on, and I'm going it alone with a number of interesting proposals and projects in the pipeline, of which more will be revealed in the coming months.
It is, as the old curse goes, interesting times. When booktwo.org launched in October 2006, it did so because of a perceived lack of action and initiative in the publishing industry in relation to ebooks and the possibilities of online and electronic reading. As the scope of the site has widened, so has the outlook of the publishing industry, and you can now find CEOs talking openly about ebooks at book fairs and business meetings, and ereaders in high street stores. This is exciting, and also a sign that it's time to find a new schtick: when the big boys gear up, most of the interesting battles have already been fought. There's a lot still to be done, but the wheels are definitely and irreversibly in motion.
So, as I kick-start my own wheels, I'm interested in what other people are doing as well. I'm available for some freelance work, and if you're still not sure what it is I do, you can check out my CV and my portfolio. If what you're doing is book-related, technology-led (or not), online or off, and you'd be interested in collaborating, please get in touch.
Here's to books, and the future.