So, I just finished reading a novel on my phone. Stepping up to the plate, I downloaded Cory Doctorow's Down and Out in the Magic Kingdom (which is a blast, by the way) from booksinmyphone.com and gave it a go.
And you know what? It was great. It was easy to read. It didn't strain my eyes. It slipped into my pocket when I changed tube trains and it jumped straight back to the right place when I slid it open again. Alex has a few good points on problems with booksinmyphone's interface, but overall the experience was a joy. I was done in a couple of days – slightly above average for me.
I recently had a go at reading Charles Stross' Accelerando in the ebook version – a similarly great, near-future novel – and gave up about half way and tracked down a paper copy. And in hindsight, the reason was obvious: I was reading it off a laptop. That's miserable. Put it on a phone, and it immediately becomes wieldable.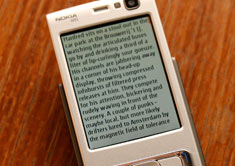 My phone is a Nokia N95. It fits in the hand, but has a nice big screen (pictured right, courtesy, again, of Alex) – about 40mm x 55mm. Comparing that to the 100mm x 160mm block of text you get on the average B-Format paperback page means you get about a third of the line length, and a third of the page height. But once again – it really didn't seem to affect my reading. I even found myself reading it in bed, even when I'd only started out of necessity when I found myself on a bus without a book.
Does that imply it was better? Well, I'm not going to go that far – yet. My paper books don't run out of batteries, for starters, and the platform is still suffering from format fatigue (Mobipocket has the best range, but they're still priced too high, and the free stuff doesn't cut it), but I'll definitely be reading more this way. And with the recent news that cellphone novels – books not only read but written on mobiles – are beating out the bestsellers in Japan, I'm not the only one.