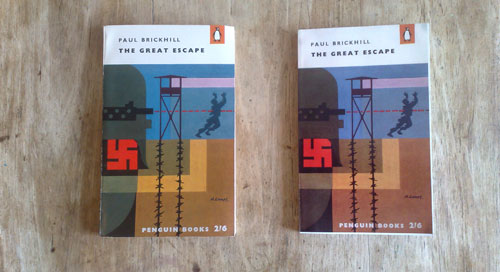 The Great Escape cover above, designed by Abram Games for Penguin in 1951, is one of my all-time favourites. And when, Moleskined-out, I needed a new notebook, it sprung to mind.
So here's what I did. I scanned in the cover, and created a dummy edition, complete with 200 blank, numbered pages, which I had printed by Lulu – a replica edition for my own use. It cost £5, which I thought was pretty reasonable.
If you'd like to do the same, here's the blank, numbered interior pdf for a 200pp paperback notebook (what Lulu calls Pocket B&W, Perfect Bound, 10.795cm x 17.463cm). And if you have InDesign CS2+, here's a blank cover file, complete with bleed and spine correctly sized for 200pp (I'm pretty sure this is copyright violation, so you'll have to scan your own favourite cover).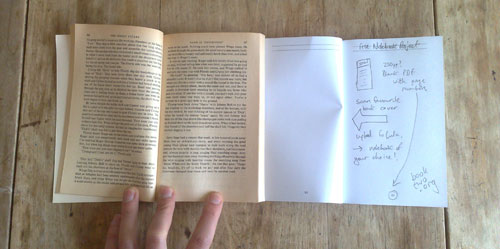 Note that I messed up the bleed a little, trying to preserve the edges of Games' design, but trial and error will out.
I'm starting to see the internet as an (admittedly very slow) cornucopia machine (yes, I've been overdosing on the Stross again). The number of web services that let you customise 'things' – and sell them on – is growing rapidly, and has quite profound consequences for traditional first-order (manufacturer) and even second-order (designer) producers. And quite interesting ones for the rest of us.