2012 was a good year. I wrote 37 blog posts, not including this one, covering a year of work, speaking, writing, teaching and making things.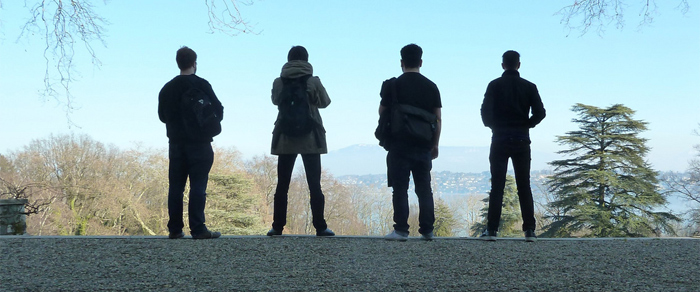 I gave, I think, more than twenty public talks. These included — of those available online — Words Words Words for It's Nice That, We Fell In Love In A Coded Space at Lift, The Future of the Book at the Do Lectures, Metaphors Considered Harmful at NEXT Berlin, a (mostly) different talk with the same title at Open Design, a Four Thought lecture on BBC Radio 4, Our Mutual Friends at Jerwood Space, and Stories from the New Aesthetic at the New Museum.
The original New Aesthetic panel at SXSW is not available online, but it was one of the turning points of the year, obviously, kicking off a whole storm of interest in ideas about the increasingly pervasive networking of the world. The New Aesthetic tumblr continues, and I covered many overlapping areas in blog posts such as Opinions are Non-contemporary, The overlapping consensus, The internet considered as a fifth dimension, that of memory, Living inside the machine and the whole Six posts about the present series.
For the record, Will Wiles' piece for Aeon Magazine is the best write-up of the first year of the New Aesthetic, I think, but I'm grateful to all of those who were, and remain, part of the conversation.
I wrote articles elsewhere for a number of publications, such as The new value of text for WIRED, on GPS for ICON, on Amazon and Infrastructure for DOMUS, and on Trap Streets for Cabinet, as well as my ongoing Observer column on books and technology.
On the blog, I wrote about things I loved: CERN, Light, Frozen Moments, Green, and Caravaggio, among others.
There was some seriously enjoyable client work on some lovely projects, including Bus-Tops with Art Public, Pepys Road with Storythings, and the John Cage Proms Walk with Caper. (Yes, I am always looking for work, if you're wondering. Get in touch.)
I took part in two residency programmes this year, the art-tech enquiry of Happenstance at Lighthouse in Brighton, where among other things I made Offbott with Natalia Buckley and coded in public, and the Visible Futures Lab at the School of Visual Arts in New York.
The latter produced the last of this year's drone works, which will undoubtedly continue next year: Drone Shadows in London and Istanbul, Dronestagram, the Light of God, and the UAV Identification Kit. I'm really pleased that these generated such interest, and look forward to more work in this vein. Also on the art side: A Ship Adrift and A Ship Aground with Artangel, which rapidly approaches its conclusion, and somewhere in between the Mapping Workshop and Balloon Mapping in Guimarães, Portugal.
Finally, I spent a semester in New York, teaching a course on the Interactive Telecommunications Programme (ITP) at NYU. The course was called "Waving at the Machines", and was about all the things I talk about all the time, but specifically how they might be articulated by technologists and artists in order to be transformed into work and understanding. It was a very good 14 weeks, and I will attempt to write it up soon.
In the mean time, a very Happy New Year. Here's to the next one.