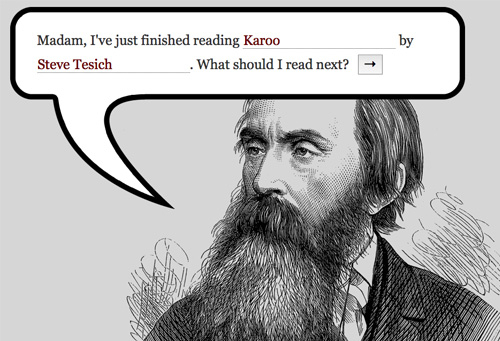 In case you don't read Times Emit (which you obviously should), Apt just released a fun little literary app onto the web that I designed and built: The Book Seer. I wrote about it over at TE (and had a bit of a rant about book data):
It's very simple. It's just pulling suggestions from Amazon and LibraryThing – at the moment. I'd like to pull stuff from more places, but it's not easy.

…

Book data is hard, but it shouldn't be. It's also valuable, and that's why Amazon ranks higher than most publishers for their own books, and why monopolies like the OCLC exist and why things like OpenLibrary are A Good Thing (and I need to have a proper play with their API). Data should be free. Representations of that data can then be used by all, and the most successfull will Rise. That's the idea, anyway: things like this should be easier to build.
Peter's also written a follow-up post, The Long Tailed Book Seer:
Seeing as the Bookseer is about books, and data, and openness, I thought I would share some of the early stats with those of you who are interested in such things. This is all based on the first few days' traffic up to June 13th. (Whilst launched before then, we announced in on June 9th.) As well as being fun, I think that the data is a mild demonstration of The Long Tail in action.
Read the whole thing at TE, and of course, go check out The Book Seer…