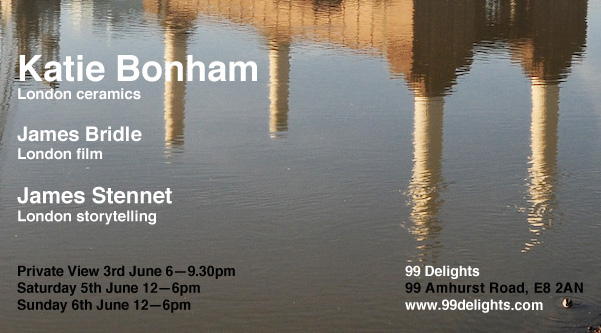 A few weeks ago, while filming Battersea Power Station from the roof of a pub, I got chatting to Katie Bonham, a ceramics artist whose recent work includes pieces fired from the mud of the Thames itself.
As a result of this encounter, I'll be showing a short film at a pop-up exhibition this weekend, documenting the progress of my London 2010 project, which, if you haven't been following, is an attempt to reconstruct Patrick Keiller's 1992 film, London.
The venue is 99 Delights, one of London's loveliest secret restaurants, so from midday til 6 on Saturday and Sunday there will be breakfasts, teas, pork pies and drinks available in the garden. If you're in Hackney, you should come by. It's going to be a lovely weekend.